Cat Mask
Are you looking for a way to jazz up your project? Try adding glitter, googly eyes, feathers, and other decorations.
Halloween is a super fun time of year, but coming up with last minute costumes can be challenging. A mask with nice dress clothes, like a vest and white shirt or a fancy dress, can be a quick and easy solution. Most of us already have a fancy dress or a suit in the closet, and you can paint your mask to match whatever you have. Gluing feathers along the top of it can help it stand out a bit more, and sparkles are always a fun choice for masks. Its also an easy theme to use for a couple or group.
This mask is a relatively quick and easy one to do, and it is also a surprisingly flexible design. Do you need a pig rather than a cat? Try folding down the ears, taking off the teeth, and drawing big nostrils on the nose. A bit of pink paint and it will work quite well. It could also easily be made into a bear or a monster. Use your imagination and experiment. The worse thing you will waste is a bit of cardboard and time, and you might just create something fabulous!
Materials
Printed Pattern
Paints or Colouring Supplies
Glue
Scissors
Ribbon or String
Instructions
1. Print up a copy of this mask and muzzle, then glue it to a thin piece of cardboard (like a cereal box).
2. Cut out the mask and muzzle along the blue lines. Don't forget to cut out the eyes and between the tabs (yellow squares). Test the mask at this point to make sure you can see out of it. Make the eyes as large as nessesary.
3. Fold the back strip of the muzzle so that it matches the shape of the front part. Use the front tabs to glue it in place.
4. Cover the front sides of the remaining yellow tabs and stick the muzzle on as shown. (The yellow tabs should not be visible.)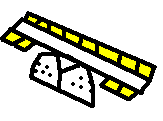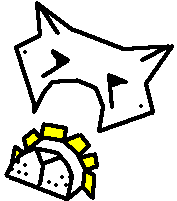 5. Now paint or colour your mask and use string to tie it on.
**If you'd like to make a sturdier mask, coat the front and back of it in 2-3 layers of paper mache as explained in the ornament instructions. This mask is fairly small as it was designed for a child, if you need it bigger just resize it on the computer or a photocopier.**